Car of the Year 2014: A clear win for Peugeot 308
307 points
The Peugeot 308 has been named Car of the Year 2014. The winner received 307 points from the 58 Jury members, with top points from 22 jurors. Second and third, in a close race, were the two electric cars, BMW i3 (223 points) and Tesla S (216). In the group of seven Nominees, were also the Citroën C4 Picasso (182), Mazda3 (180), Skoda Octavia (172) and Mercedes S-class (170).
The CotY 2014 winner is not a 'repeater', as Renault Clio in 2006 and VW Golf last year; just sort of it, for the 307 -the compact Peugeot at the time- also won the award in 2002. Offered in 5-door hatchback and estate body styles, the 308 is the spearhead in Peugeot's product offensive: Stylish and with new ambitions in quality and elegance. PSA's new EMP2 platform allows big advantages over the previous model with the same nameplate. The new 308 is at the same time slightly shorter in length and with a bigger cargo area. This last virtue is very much pronounced in the handsome 308 SW, the estate derivative.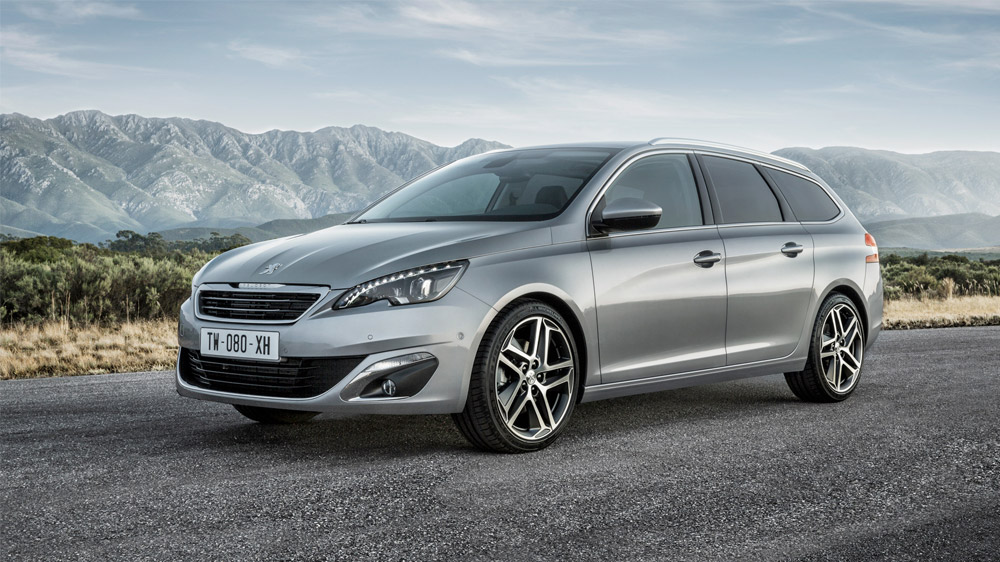 Peugeot 308, Car of the Year 2014
The new construction approach and the use of lightweight and composite materials save weight in an amount that Peugeot estimates up to 140 kg; a feature that improves performance and fuel economy. Launched with a limited engine range, the Peugeot 308 diversifies powertrains for 2014. The PureTech family of 3-cylinder petrol engines had already an aspirated 1.2 as the access option. The two versions of the new 1.2 e-THP, with direct injection and turbocharging, offer 110 and 130 hp, lots of torque and astonishing fuel consumption figures; in fact they better the official fuel economy of their 82 hp sibling. As for the BlueHDI diesel engines, now with four power levels up to 180 hp, they are homologated with outstanding emission figures starting at 82 g/km of CO2. Peugeot also announces for the 308 a new and efficient 6-speed automatic gearbox. Away from the popular dual-clutch trend, the converter-equipped transmission should add only marginal fuel consumption over the manual 'box.